Sudan India Relations
President Abdul Kalam inspecting a guard of honour on arrival at Khartoum International Airport in October 2003.Sudanese President Omar Hassan Ahmad Al-Bashir is also seen walking along.
"Pandit Jawaharlal Nehru, Prime Minister of India during his Visit to Sudan seen in this photo with Mr. Abdul Rahman Al-Mahdi and Prime Minister Abdalla Khalil. 13 July 1957"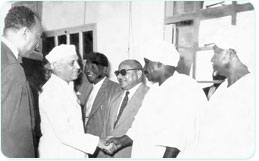 Nehru greets Sudanese dignitaries. Foreign Minister Al Mahgoubi looks on
"Prime Minister Mr. Ismail Al Azhari and Minister Mr. Mubarak Zarroug and Mr. Hassan Awadalla of Sudan with Maulana Abul Kalam Azad, Minister of Education of India. In New Delhi on 14th April, 1955."
Sudan and India are linked by strong bonds of common heritage and unique similarities. They are both countries of diversities and demographic wealth. Relations between the two countries have always been warm and cordial. These relations have long history of contacts.
In ancient times the Nile Valley Civilization and the Indus Valley Civilization mutually interacted. The Nile and the Red Sea also provided well-known routes to Indian traders and visitors. Many aspects of culture and traditions in India and the Sudan have had a common source of origin. The large Indian community in the Sudan as well as the presence of many Sudanese of Indian origin, are clear examples of such interaction between the peoples of the two countries. Indian and Sudanese people also came closer to each other during the British colonial era, which dominated both of them. The two
peoples shared a common national struggle, and the teachings of Mahatma Gandhi inspired the Sudanese national struggle when the Sudanese Graduate Congress led the struggle for the attainment of National Independence that was achieved in 1956. Shortly before independence, and in preparation for that historic event, Sukumar Sen, an Indian representing the Indian Election Commission conducted the first election in the country. Prior to independence too, the very establishment of the Sudan's Forest Service in 1901 was based on a report by an Indian forester, Mr. Murell. The establishment of Sudan Railways drew also from the Indian experience. Common sight trees like neem, labak, and cassia, which decorate the avenues of many Sudanese cities, towns and villages are of Indian origin. Likewise, the well-known Indian National Defence Academy in Pune was contributed by Sudan. The largest Indian School in Africa located in Omdurman, Sudan, was also a gift from Sudan to India on the occasion of the visit of the then Prime Minister Late Pandit Jawaharlal Nehru to Sudan. As founding members of the Non-Aligned Movement whose seeds were sown at Bandung Conference, leaders of the two countries have maintained regular contacts: Sudanese leader Ismail Al-Azhari visited India in 1955 followed by late President Ibrahim Abboud.
Exchange of high-level delegations between the two countries have been taking place since then, including the visit to Sudan by the late Indian President Fakhuruddin Ali Ahmed in 1975, former president Numeri 1974 trip to India, and the visits of the then Sudanese Foreign Minister Ali Osman Mohammad Taha to New Delhi in 1996 and by Dr. Mustafa Osman Ismail, the minister of external relations in 1997, as the leader of the Sudanese side to the meeting of the Indo-Sudanese Joint Ministerial Commission.
The latest of these contacts was the important visit by H.E. Mr Ali Osman Mohammed Taha, first vice-president of the Sudan to India in July 2002, accompanied by a high-level delegation that included H.E. Dr. Mustafa Osman Ismail, the minister of Foreign Affairs, Dr. Majzoub AL Khalifa, minister of Agriculture and Forestry and Professort Alzubair Bashir Taha, Minister of Science and Technology. Dr. Najma Heptullah, Deputy Chairperson of Rajya Sabha led a high-level Parliamentary delegation to Sudan. Besides, many visits to both Sudan and India are currently performed by many visitors, experts, businessmen and tourists as well as official delegations representing various fields of human endeavour.
India and Sudan have always shared common positions. They also hold identical views on various regional and international developments. Like in the past, when the two countries joined hands to fight colonial domination and the abhorrent apartheid system, Sudan and India are also vigilant at present in defending the interests of developing countries in the political and economic fields. They both believe in a multi-polar world with a fair and equitable system of global trade and business. They hold firmly to the need for more and more solidarity within the ranks of developing countries.
India is among Sudan's important trading partners. Both countries are now determined to achieve, once again, the highest possible performance in their bilateral dealings. The signing by both countries of eleven agreements on trade, economic, cultural and technological fields as well as the establishment of an Indo-Sudan Joint Business Council and the Indo-Sudanese Cultural Forum are clear testimonies to and examples for their shared commitment and determination to consolidate their cooperation in all fields.